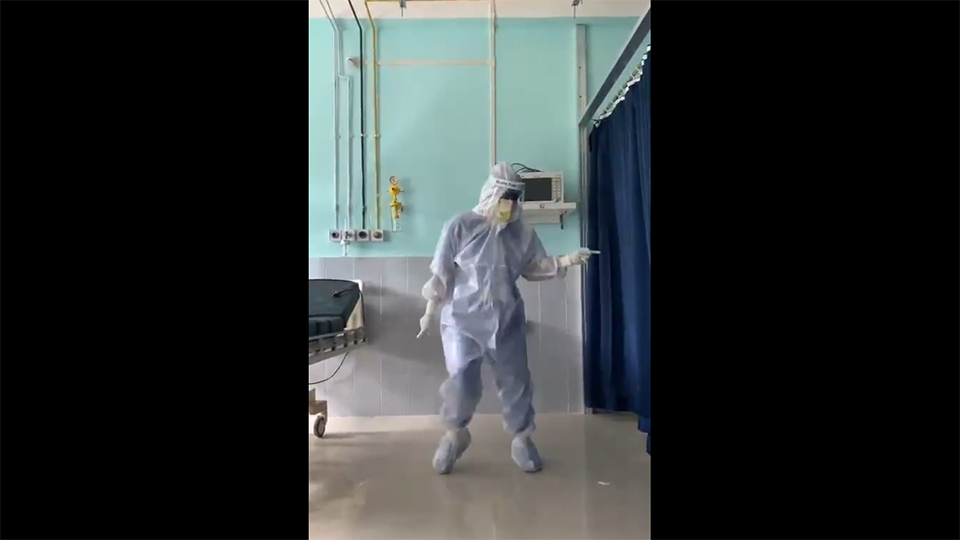 An Indian surgeon is winning hearts online after a video of his dance moves was posted by his colleague. The doctor, identified as Dr Arup Senapati, is seen dancing in full PPE gear as a way to cheer up Covid patients under his care.
Just check out his smooth dance moves below.
Meet my #COVID duty colleague Dr Arup Senapati an ENT surgeon at Silchar medical college Assam .
Dancing infront of COVID patients to make them feel happy #COVID19 #Assam pic.twitter.com/rhviYPISwO

— Dr Syed Faizan Ahmad (@drsfaizanahmad) October 18, 2020
Twitter users heaped praise for the ENT surgeon at the Silchar Medical College in Assam. Many users wrote that it is a great way to spread positive vibes.
In this time of great collective grief, this doctor is the proof that human spirit is invincible.

— Exploding Golden Goose Singh, MD 🌊 (@LabyrinthWeaver) October 19, 2020
What a star!?

— Sanjay Raina (@sanjayraina) October 19, 2020
Yes to positivity! The negative comments are most likely from people unaware of the powerful effects laughter & smiling have on the immune system. https://t.co/HNuplJ9xiw

This makes a tough situation better for both patients & staff. Find a sliver of happiness wherever you go.💛

— Gypsy Footprints (@gypsyfootprints) October 19, 2020
His ability to groove was also recognised by Bollywood actor Hrithik Roshan.
Tell Dr Arup I'm gonna learn his steps and dance as good as him someday in Assam . Terrific spirit . 🕺🏻 https://t.co/AdBCarfCYO

— Hrithik Roshan (@iHrithik) October 19, 2020