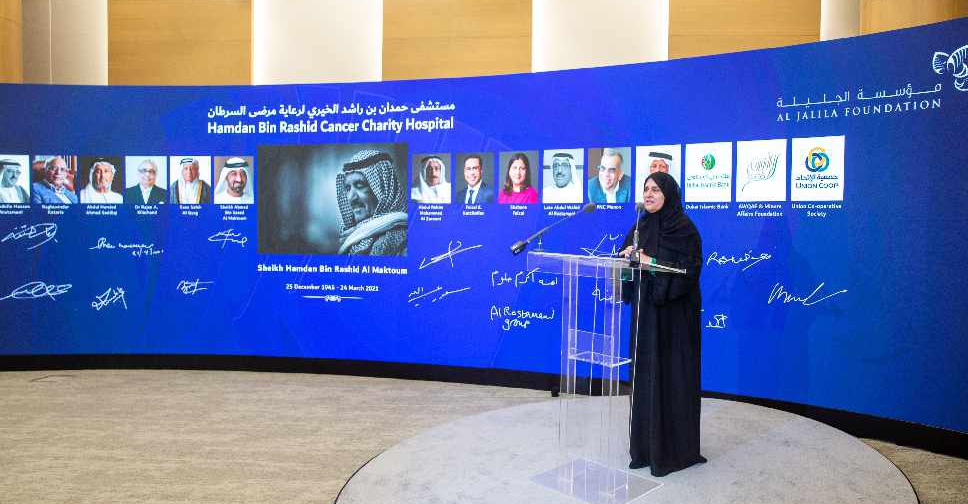 @DXBMediaOffice/ Twitter
More than AED 220 million has been raised to establish a cancer hospital in Dubai that will help patients in need.
The amount raised by Al Jalila Foundation will go towards the AED 480 million needed to build Phase 1 of the Hamdan Bin Rashid Cancer Charity Hospital, and its first year of operations.
The facility is expected to open its doors in 2023.
The charity hospital pays tribute to the late Sheikh Hamdan bin Rashid Al Maktoum for his lifetime of service to the nation and exceptional global philanthropic achievements.
Al Jalila Foundation is investing AED750 million in the 250-bed hospital spanning 50,000 square metres, which will be built in two phases.
It will be the first fully modular-built hospital in the region.
Phase 1, featuring 150 beds equipped with cutting-edge technology, will have the capacity to treat 30,000 patients a year.
Donors praise Hamdan Bin Rashid Cancer Charity Hospital as a pioneering initiative that supports cancer patients in need.https://t.co/gMJTX4TgmH pic.twitter.com/yQ2haZtnuF

— Dubai Media Office (@DXBMediaOffice) June 8, 2021
.@HHAhmedBinSaeed, Chairperson of the Board of Trustees of @aljalilauae: The Hamdan Bin Rashid Cancer Charity Hospital will bring together innovative expertise, advanced technologies, & wellbeing strategies to propel the UAE's vision forward to become a leader in cancer care. pic.twitter.com/jSHG1VQaHN

— Dubai Media Office (@DXBMediaOffice) June 8, 2021
Al Jalila Foundation, a member of the Mohammed bin Rashid Al Maktoum Global Initiatives, announced that it has already raised AED220 million to establish the Hamdan Bin Rashid Cancer Charity Hospital to help cancer patients in need.https://t.co/81nO60Btjd pic.twitter.com/oXHFTycE4h

— Dubai Media Office (@DXBMediaOffice) June 8, 2021