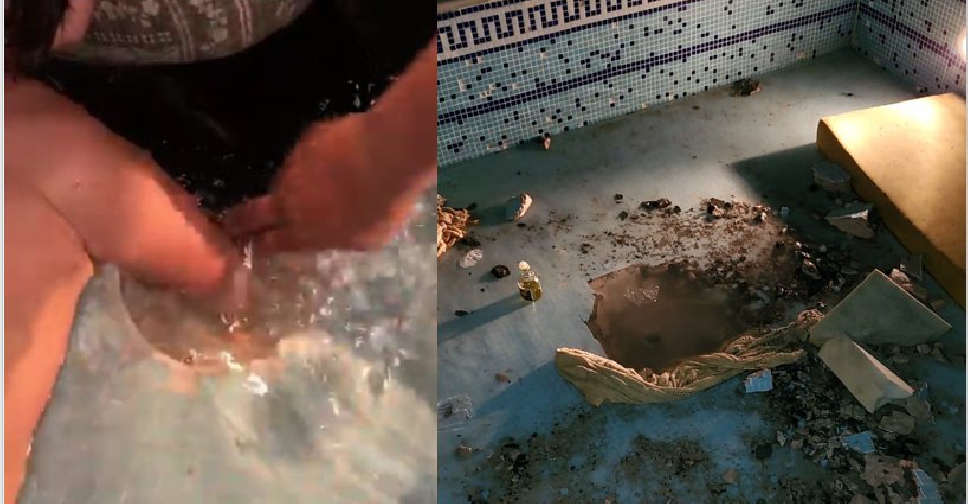 Supplied
A toddler whose arm got stuck in a swimming pool drain has been rescued by Dubai Police.
The three-year-old had managed to remove the cover of the drain without anyone noticing.
Officers from the maritime rescue unit rushed to the child's house on Dubai-Al Ain Road after being alerted by his parents.
The rescue operation lasted two hours as they had to manually drain the pool, cut off electricity and break open the concrete portion in the pool around the child's arm.
The boy was saved without any injuries and there was also an ambulance at the site to check on him.
"The child's parents initially tried hard to help him remove his hand, but to no avail, and the water surrounded the child, who was crying in pain," said Lieutenant Colonel Ali Abdullah Al-Qassib Al-Naqbi, Head of the Maritime Rescue Department.
"Special tools were used to break the cement material in the bottom of the basin surrounding the child's arm, and we then removed the plastic ring of the water drainage tube to release air pressure, which helped free the child's arm," he added.
Lt. Col. Al Naqbi highlighted the importance of not allowing children to enter swimming pools unless there is a professional lifeguard or they are accompanied by someone who knows how to swim well.
He also called on the public to dial 999 in case of any emergency and to describe the place accurately so that rescue patrols can reach the site as soon as possible.
#أخبار | شرطة دبي تُنقذ طفلاً حُشرت ذراعه في أنبوب تصريف مياه حوض سباحة

التفاصيل:https://t.co/6immfOMPaB#شرطة_دبي#أمنكم_سعادتنا#الجميع_مسؤول#نتواصل_ونحمي_نبتكر_ونبني pic.twitter.com/of4yVuoheC

— Dubai Policeشرطة دبي (@DubaiPoliceHQ) September 16, 2020