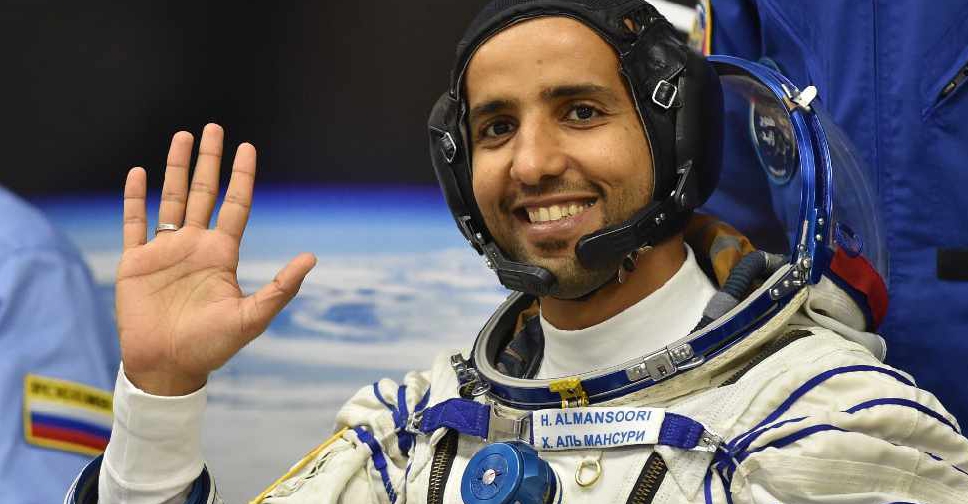 VYACHESLAV OSELEDKO / AFP
It's mission accomplished for the UAE as Hazzaa Al Mansoori is now safely on board the International Space Station (ISS).
The 35-year-old former military pilot scripted history becoming the first Emirati in space and the first Arab to set foot on the ISS.
The spacecraft carrying Al Mansoori and two other astronauts reached the space station at 11:42 pm UAE time, around 6 hours after bast off from the Baikonur Cosmodrome in Kazakhstan on Wednesday.
After a series of checks, they opened the hatch to their new home at 2:12 am, and here's that moment.
Astronaut #HazzaaAlMansoori has successfully reached the #InternationalSpaceStation. This is where his journey begins. For the next 8 days, he will be conducting a series of significant scientific experiements, particularly on the impact of microgravity on the human body. pic.twitter.com/q8sBgA9XYC

— MBR Space Centre (@MBRSpaceCentre) September 25, 2019
These were Al Mansoori's first words from space.
رائد الفضاء الإماراتي هزاع المنصوري متحدثاً: بحمدلله وصلنا لمحطة الفضاء الدولية .. الأمور طيبة... وسلامي لكل أهل الإمارات. #أول_رائد_فضاء_إماراتي #هزاع_المنصوري pic.twitter.com/xlzCgdVYw1

— MBR Space Centre (@MBRSpaceCentre) September 25, 2019
The successful mission marks an important milestone in the UAE's space sector, and it comes just two years after the launch of the country's Astronaut Programme.
Live streaming sessions were organised across the Emirates on Wednesday to watch the historic moment.
In Dubai, a mammoth crowd gathered at the Mohammed bin Rashid Space Centre.
Students, families and space enthusiasts were among the thousands who came to witness a slice of history.
These school children, who watched the proceedings, shared their thoughts with ARN News.
Al Mansoori will participate in various scientific missions on the ISS, and back on Earth, students will also get a chance to conduct some of those experiments.
Noora Al Rafi, Head of Education and Outreach Programme of the UAE Astronaut Programme, shared the details with ARN News.
H.H. Sheikh Hamdan bin Mohammed bin Rashid Al Maktoum, the Crown Prince of Dubai and President of #MBRSC, joins Emiratis in celebrating the launch of the #FirstEmiratiAstronaut, #HazzaaAlMansoori, to the #InternationalSpaceStation.@HamdanMohammed @astro_hazzaa pic.twitter.com/C264uRi3r0

— MBR Space Centre (@MBRSpaceCentre) September 25, 2019
Al Mansoori will spend eight days on the ISS before returning to Earth on October 3.