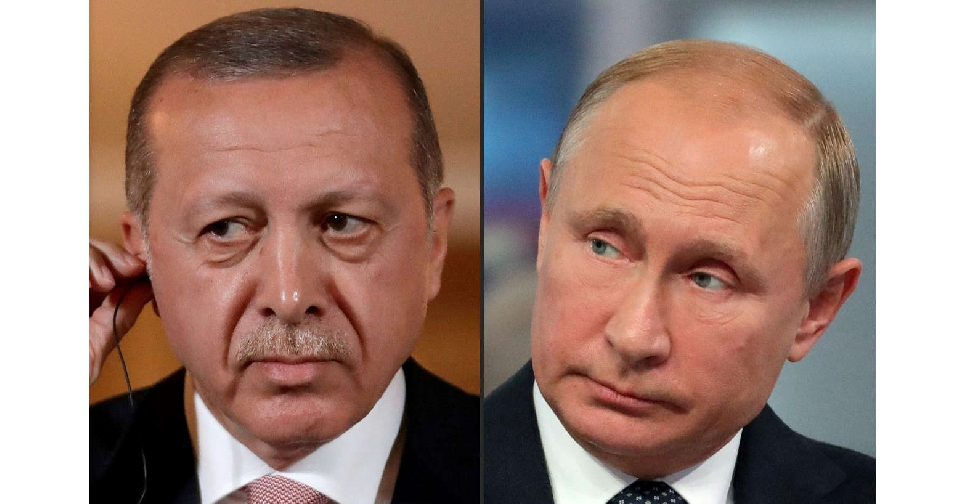 AFP
Turkish President Tayyip Erdogan spoke by phone with Russia's Vladimir Putin and thanked him for his "positive attitude" in extending the Black Sea grain deal, the Turkish presidency said on Saturday.
Erdogan thanked Putin for his "positive attitude" in extending the Black Sea grain deal and expressed his "understanding of the Russian side's principled position to achieve the full implementation of the second part of the agreement, removing barriers for Russia's agricultural products," the Kremlin said in a statement.
Russia laid out conditions on Monday for agreeing to any further extension of the Black Sea grain deal, and Putin said that Moscow could send free grain to African countries if those conditions were not met.
Putin and Ergodan "expressed satisfaction with the positive dynamics of trade and economic relations, the successful implementation of joint strategic projects in the energy sector, including gas supplies and the construction of the Akkuyu nuclear power plant in Turkey," the Kremlin said.
They also discussed the normalisation of Turkish-Syrian relations, it said.

BLACK SEA DEAL
The deal allowing the safe Black Sea export of Ukrainian grain was renewed on March 18 for at least 60 days - half the intended period - after Russia warned any further extension beyond mid-May would depend on the removal of some Western sanctions.
The pact was originally brokered with Russia and Ukraine by the United Nations and Turkey in July and renewed for a further 120 days in November. The aim was to combat a global food crisis that was fueled in part by Russia's Feb. 24, 2022, invasion of Ukraine and Black Sea blockade.
The deal had been set to expire on March 18.
"The Black Sea Grain Initiative, alongside the Memorandum of Understanding on promoting Russian food products and fertilizers to the world markets, are critical for global food security, especially for developing countries," U.N. spokesman Stephane Dujarric said in a statement.
Russia and Ukraine are key global suppliers of food commodities and Russia is also a top exporter of fertilizer.