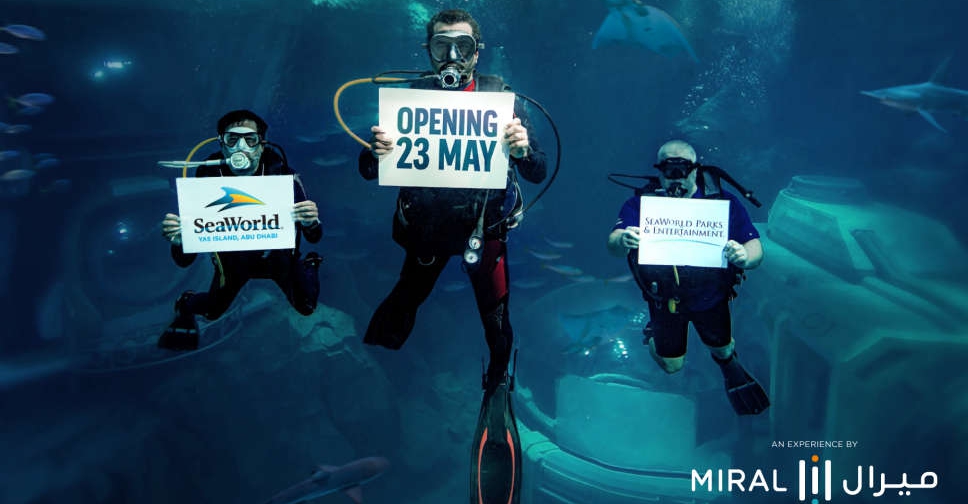 SeaWorld Abu Dhabi will officially open its doors to the public on May 23.
A collaboration between Miral and SeaWorld Parks & Entertainment, SeaWorld Abu Dhabi will deliver engaging, and immersive family-friendly experiences through eight of its uniquely themed realms, featuring up-close animal encounters, exciting rides, inspiring entertainment, as well as unmatched dining and shopping experiences.
Based on the interconnectivity between all life on earth and our ocean, SeaWorld Abu Dhabi will take guests through its unifying ONE OCEAN story, with stops in the tropics, the rocky coasts of the Pacific Northwest, the Arabian Gulf, the vast ocean and its smaller ecosystems along the way.
It will feature eight realms across five indoor levels spanning an area of approximately 183,000m2 with the Endless Ocean realm set to be home to the world's largest and most expansive multi-species aquarium. This innovatively designed aquarium will contain over 25 million liters of water and will be a dynamic habitat for more than 68,000 marine animals, including sharks, schools of fish, manta rays and sea turtles.
Located on Abu Dhabi's Yas Island, in total there will be over 100,000 marine animals including 150 species of birds, fish, mammals and reptiles at the Marine Life Theme Park.
Animal habitats in each realm of SeaWorld Abu Dhabi have been custom designed using state-of-the-art technology and the highest standards for animal welfare.
"Through its innovative programs and its state-of-the-art facilities, SeaWorld Abu Dhabi aims to inspire the next generation of conservationists and marine life scientists while fostering a deeper appreciation for the natural world," said Chairman of Miral, Mohamed Khalifa Al Mubarak.
Those wishing to visit can book online.
Everything you need to know
The guest journey begins in the ABU DHABI OCEAN realm, where guests will be carried to the shallow shores of the Arabian Gulf to learn more about the UAE's historic seafaring tradition of pearl diving and trading. Abu Dhabi Ocean will allow guests to experience up-close encounters with animals native to the emirate and wider region. This realm features several dining options including Matbakh Ummi, a signature dining experience with Arabic cuisine, and is also home to retail outlets in a Souk paying homage to Abu Dhabi's heritage and its profound connection with the Arabian Gulf. Abu Dhabi Ocean will also be the first touchpoint for guests to enroll in SeaWorld Abu Dhabi's parkwide interactive game – S·E·A Guardian.
POLAR OCEAN houses two unique realms taking visitors from the icy expanse of ANTARCTICA to the rich, bio-diverse tundra of the ARCTIC, illustrating how these distinct and extreme environments of Polar Ocean form an essential chapter of the One Ocean story. In these realms, guests can enjoy the colorful Juhani village and its harbor, depicting life in the North Pole, where walruses can be seen exploring their dynamic state-of-the-art habitats. The coldest of all realms will also simulate the temperatures that can be found in our planet's polar regions – creating an environment well-suited for animals like penguins and walruses. At the Polar Ocean realm, guests can enjoy an immersive ride, indulge in dining options, explore retail outlets and visit a massive research vessel filled with fun interactive ways to learn more about these diverse regions and their inhabitants.
When visiting the MICROOCEAN realm, small is BIG and small is IMPORTANT as guests will be swept by the ocean tides and feel shrunk to the size of plankton. In this realm, guests will have the chance to explore the ocean's smaller wonders in a burst of colors and an immersive design highlighting the vital role of the ocean's smallest marine-life. MicroOcean features family-friendly rides, play areas for the little ones, whimsical characters and performers, a playful retail outlet, and dynamic experiments taking young explorers on an unforgettable educational journey.
Beyond the little wonders of the ocean, lies the expanse of the ENDLESS OCEAN realm. Home to the largest multi-species aquarium in the world, stunning observation decks and a beautiful glimpse from a 20m viewing window, aptly named the Endless Vista, in a sea cave, this realm's possibilities are truly endless. There will be over 68,000 animals within its awe-inspiring habitat including sharks, rays, eels and many more inspiring guests to explore the endless beauty and diversity of the vast ocean. Endless Ocean offers delectable dining options, including one fine dining option with mesmerizing views of the aquarium and one retail outlet.
Bask in the warm sun along the sandy shores of the TROPICAL OCEAN, the largest realm in SeaWorld Abu Dhabi, in a magnificent medley of colors, dancing waterfalls and a crystal-clear lagoon. In Tropical Ocean guests will be able to see dolphins, flamingos and tropical birds including toucans in their lush rainforest aviary. Tropical Ocean also offers a thrilling roller-coaster ride, as well as retail outlets and delicious dining options with multiple viewing areas, both above and below water.
Moving from the sun-kissed tropics to the USA's rugged Pacific Northwest, the ROCKY POINT realm features a beautiful hidden cove with nesting sea lions and once-in-a-lifetime opportunities to interact with these animals. Not as cold as the Arctic and Antarctic, Rocky Point will also include dynamic habitats for the sea lions with a climate that emulates the Pacific Northwest. The realm also includes a boardwalk-inspired snack stand.
Adjacent to SeaWorld Abu Dhabi, the park is home to Yas SeaWorld Research & Rescue Yas Island, Abu Dhabi, the first-of-its-kind dedicated marine research, rescue, rehabilitation and return center in the region, serving as an advanced marine science knowledge hub and a key contributor to marine life conservation in the UAE and wider region. Yas SeaWorld Research & Rescue opened in February 2023.