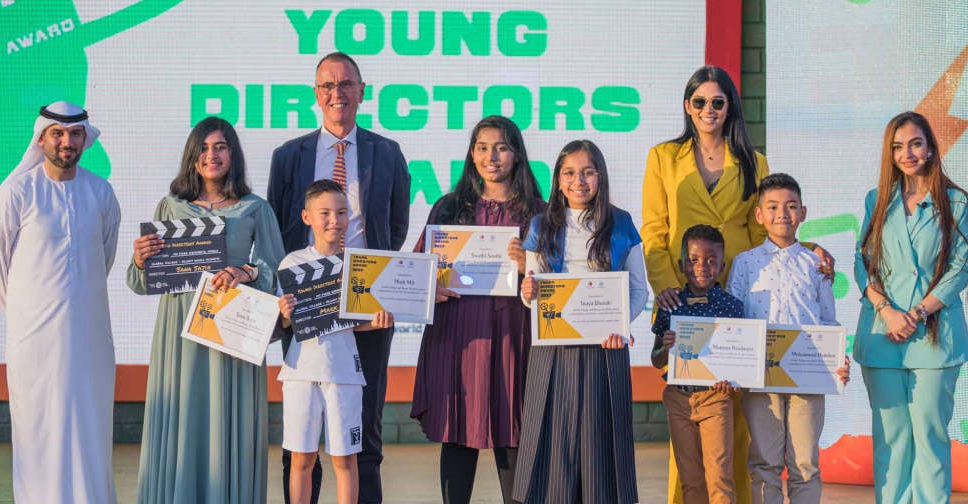 Supplied
Global Village and Bloom World Academy have announced the winners of the Young Directors Awards competition.
Nine-year-old Mark Mit (junior category) and 13-year-old Sana Sajin (senior category) were selected to win full Bloom World Academy scholarships after their short films were awarded first place.
The award ceremony took place at the Kids' Theatre in Global Village.
Entrants were tasked with creating a short video under the theme "My more wonderful world", showcasing the story of what they, or someone they know, would do to make the world a better place, or how they are already helping to build a more positive future.
The videos were evaluated by a panel of judges that included Saeed Aljanahi, Director of Operations, Dubai Film & TV Commission, John Bell, Principal, Bloom World Academy, Nyla Usha, actress and host of The Big Breakfast Club on Hit 96.7, Emirati Director Nahla Al Fahad and Dubai Eye 103.8 radio presenter Helen Farmer.
Winner of the Junior Category Mark Mit said: "It feels amazing to have won this award. I'm very excited to join Bloom World Academy where they will help me learn the skills I need to reach my dream of creating games in the metaverse."
While winner of the Senior Category Sana Sajin added: "There aren't many opportunities for filmmakers or actors my age out there and this competition really helped me learn more skills and it paid off at the end. I'm forever thankful for Global Village and Bloom World Academy."
The competition was launched in January to celebrate the International Month of Creativity.
Global Village also collaborated with several experts in the industry to host educational workshops to help the students prepare and finalise their submissions.
Maya Joud, Senior Manager - Brand & Campaign Marketing at Global Village, said, "We are thrilled to have received such an overwhelming response from talented young filmmakers who showcased their creativity, passion and ability to inspire. We are delighted to collaborate with Bloom World Academy in providing these scholarships, and we look forward to seeing how the winners will continue to make a positive impact in their communities and beyond."
Located in Al Barsha, Bloom World Academy opened its doors in August 2022. The school is the first in the United Arab Emirates to have a later start time of 9:00 am and offer a flexible school day that allows for student learning to be in balance with family life.
John Bell, Principal of Bloom World Academy said: "We have seen some exceptional entries which have filled me with hope that our young people really will make an impact on the world and help build a more positive future. Congratulations to all who participated, and we are very excited to welcome Mark and Sana to Bloom World Academy."