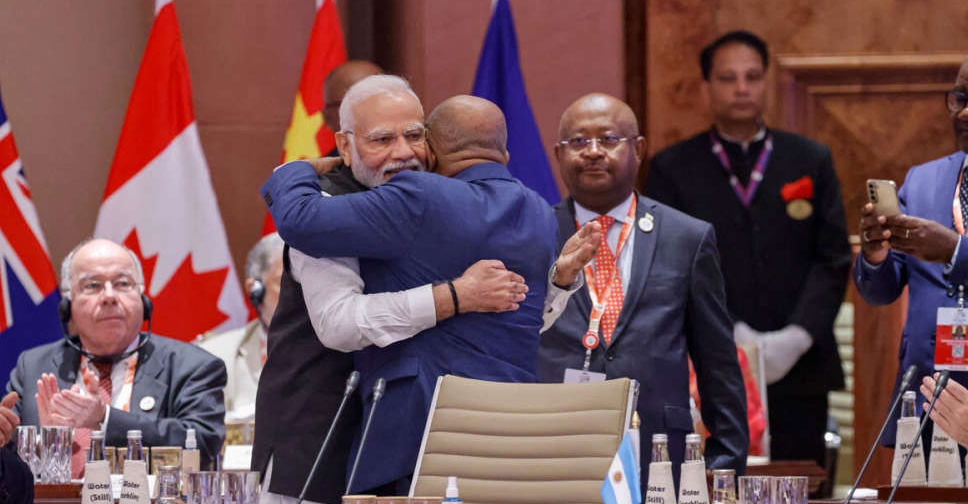 The African Union was made a permanent member of the G20, comprising the world's richest and most powerful countries, Indian Prime Minister Narendra Modi said at the bloc's summit in New Delhi on Saturday.
The African Union, a continental body of 55 member states, now has the same status as the European Union - the only regional bloc with a full membership. Its previous designation was "invited international organisation".
Modi, in his opening remarks at the summit, invited the AU, represented by Chairperson Azali Assoumani, to take a seat at the table of G20 leaders as a permanent member.
"Honoured to welcome the African Union as a permanent member of the G20 Family. This will strengthen the G20 and also strengthen the voice of the Global South," said a message on Modi's official account on social media platform X, formerly known as Twitter.
Advancing a more inclusive G20 that echoes the aspirations of the Global South!

PM @narendramodi extends a heartfelt welcome to President @_AfricanUnion and the President of Comoros Azali Assoumani.

Thrilled to have the African Union as a permanent member. A milestone for the… pic.twitter.com/SqwziRCwiT

— PMO India (@PMOIndia) September 9, 2023
The move was proposed by Modi in June.
Reuters earlier cited the draft declaration admitting the African Union as a permanent member.
Other issues being decided on at the summit include more loans to developing nations by multilateral institutions, reform of international debt architecture, regulations on cryptocurrency and the impact of geopolitics on food and energy security.
The 38-page draft which was circulated among members left the "geopolitical situation" paragraph blank -- reflecting deep division over the war in Ukraine -- but 75 other paragraphs indicated broad agreement on issues such as cryptocurrencies and reforms in multilateral development banks.
The G20 previously comprised 19 countries and the European Union, with the members representing around 85% of global GDP, more than 75% of global trade and about two-thirds of the world population.