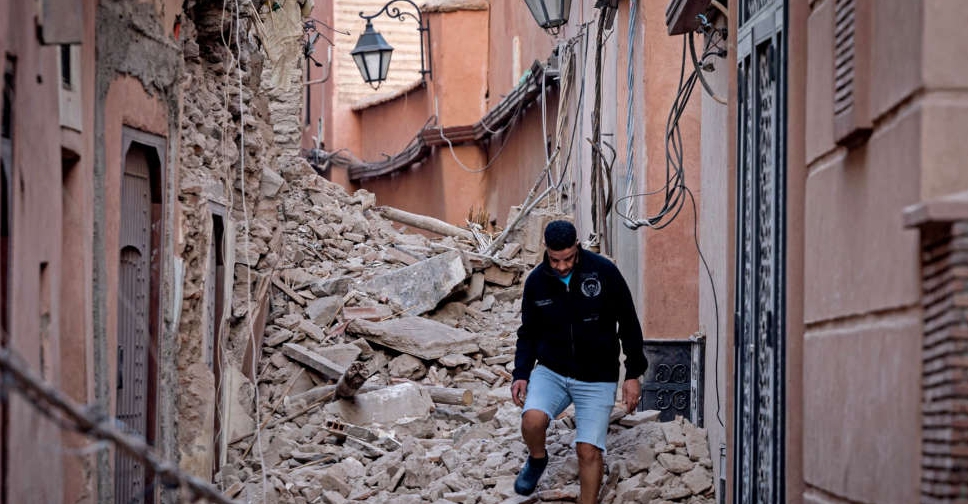 Morocco's deadly earthquake hit near Marrakech, a city beloved of Moroccans and foreign tourists for its medieval mosques, palaces, and seminaries richly adorned with vivid mosaic tiling amid a labyrinth of rose-hued alleyways.
The extent of damage to Marrakech, a UNESCO World Heritage site, was not yet clear on Saturday morning though most of the main historic sites in the old city appeared largely unscathed.
However, footage shared online but not verified by Reuters showed cracks and fallen rubble at a small section of the medieval walls and a collapsed minaret.
The shaking was bad enough to drive most residents from their houses when it struck soon after 11 p.m. (2 a.m. UAE time), and many slept outside, fearful of aftershocks in a city where many of the old houses are made from stone and mud brick.
Standing outside the city hospital, Karim El Baridi said his uncle was being treated for broken ribs after leaping out of an upper story for fear his building would collapse. "He was scared and jumped," Baridi said.
At the Jemaa al-Fna Square, Marrakech's grand centrepiece overlooked by the medieval Kotoubia mosque and a haunt of street entertainers, market stalls and snake charmers, the most precious heritage appeared intact.
The towering minaret of the Kotoubia, which is kept carefully maintained due to its prized status, looked unharmed, but the minaret of a less well-known mosque in another part of the expansive square had collapsed, smashing some cars with rubble.
Standing in front of a pile of rubble elsewhere in the old city, with elegant archways rising up behind it, Marrakech resident Miloud Skrout said the damage had blocked alleyways making it hard to help trapped residents.
"Everything is God's will, but we sustained great harm... There is no way to enter houses, and my parents are ill at home," he said.
Some houses also fell in the tightly packed old city, though residents told Reuters that these appeared to be mostly uninhabited.
Residents were using their hands to remove the rubble, one local said.
Winston Churchill, Britain's World War Two leader, enjoyed painting views of Marrakech and is said to have called it the best place on earth to spend an afternoon.
The World Bank and IMF are due to hold their annual meetings in the city from Oct. 9, and it was not yet clear if this plan would be affected by the quake.
TOURISTS IN THE CITY
Although the high tourism season has finished, many foreigners are still in the city, drawn by architectural glories that have attracted visitors for centuries.
At the hospital, where most badly injured people had been brought in from the mountains, visible to the south beyond the crenulated city walls, some tourists had joined the locals to donate blood.
"We need every drop of blood," said Mahmoud Abghach, the head of a blood donation centre where about 200 people were queuing.
"We are glad to see foreign tourists join to give blood following this painful event," he added.