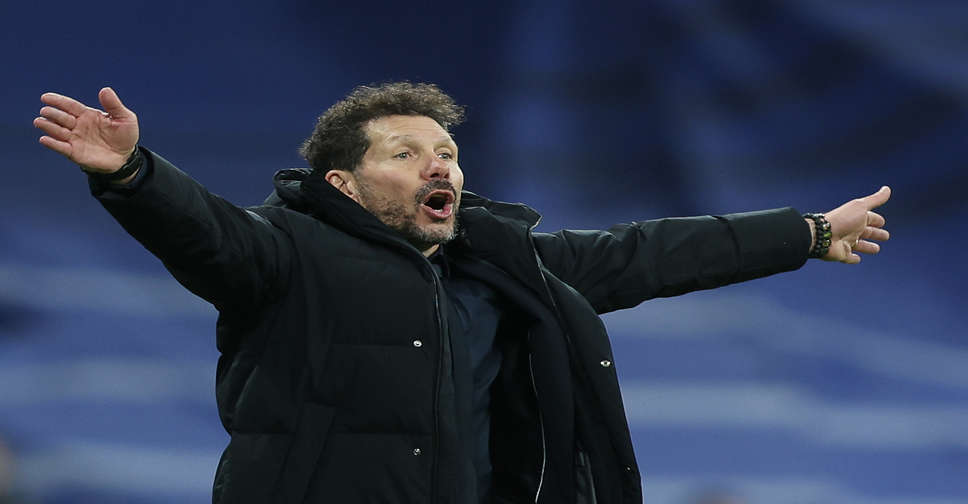 AFP
Atletico Madrid's dreams of a trophy this season came to an end with a Copa del Rey quarterfinal 3-1 defeat against bitter rivals Real Madrid on Thursday, with coach Diego Simeone blaming the referee's decision to send off defender Stefan Savic for the loss.
The match, which was held at the Santiago Bernabeu, saw heightened emotions with Atletico fans issuing threats targeting Real's Vinicious Junior before the game.
In the 19th minute of the match, Alvaro Morata scored to put Atletico ahead 1-0, but Real Madrid was able to take the game into extra time after Rodrygo Goes equalized late in the second half.
Atletico Madrid defender Stefan Savic was shown a second yellow card for a foul on Eduardo Camavinga, leaving Atletico with 10 men.
It proved too much for Simeone's side as Real scored twice in extra time, with goals from Karim Benzema and Vinicius Junior, securing their spot in the semifinals.
After the match, Simeone questioned Savic's sending off, saying, "For me, we played a very good game until the 70th minute, when [Dani] Ceballos didn't get a second yellow card [for a foul on Thomas Lemar]."
He went on to say, "We'd have been a man up and 1-0 up, but it didn't happen. Later Savic was sent off and we were a man down. It got more difficult with 10 men, but the team was brave enough to look for the draw, I'm happy with the effort of the players."
Simeone was also unhappy with what he said was a lack of protection from referee Cesar Soto Grado for forward Morata. "I asked him 'Do you have something against Alvaro? If so, I won't pick him in the next game you referee!'" Simeone said. "[Soto Grado] said Alvaro sometimes goes down easily. But he went off with a knock. They're decisions. Ceballos could have got a yellow and didn't, and Savic did."
The Copa del Rey was likely to be Atletico's last opportunity to win a trophy this season after the team finished bottom of their Champions League group, and are currently fourth in LaLiga, 13 points behind leaders Barcelona.
Diego Simeone, who has been in charge of Atletico since 2011, hinted it might be time for him to move on, saying he will reflect on his own future at the end of the season.
"We're out of the Champions League, and we're out of the Copa del Rey," Simeone said.
"We've got the second half of the season to reach the objective which the club needs [to finish in the top four] and then we'll look at everything." He added, "I'm happy to be at Atletico Madrid. From the day I arrived until the day I leave I'll give everything for the team and the club."
Real Madrid coach Carlo Ancelotti hailed goalscorer Vinicius for remaining "focused" despite being targeted in a racist incident ahead of the game, when a dummy wearing his shirt was hung from a bridge near the club's training ground, drawing widespread condemnation. "Vinicius played well as always," Ancelotti said. "His goal was the reward for his work. What happened was disgraceful, but he was focused on the game."