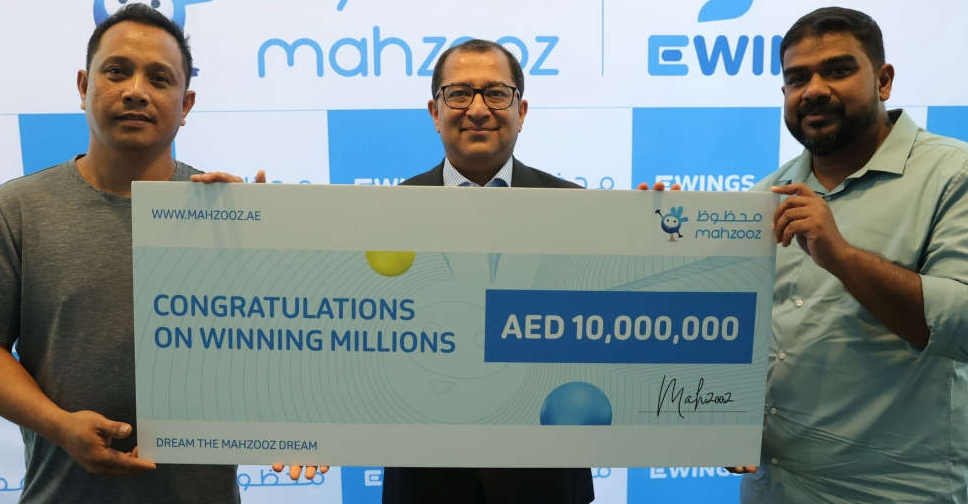 Supplied
Two expats have become multi-millionaires after hitting the jackpot in the latest Mahzooz draw.
Shanavas from India and Nelson from the Philippines are the joint winners of the AED 10 million prize, and will share AED 5 million each.
The two lucky participants' lives changed overnight after matching five out of the five winning numbers, which were 7,9,17,19,21.
"I remember choosing my numbers randomly without giving it much thought and then I went to work without noticing that my numbers were on the screen during the draw. My biggest surprise was to know that someone else had picked up the same numbers and now shares the top prize with me. I am happy for both of us," said 41-year-old Shanavas.
The father of two has been living in the UAE for the past 14 years, away from his family.
On Saturday night when the draw took place, Nelson, the other top prize winner, was at work, and it was his friend who told him about the win.
Nelson checked his Mahzooz account to verify it as he initially thought his friend was playing a prank on him.
"It's impossible to predict when luck will strike. I am glad to have won with Mahzooz, and I want to use this money to build my dream home for my family back home," said the dedicated professional, who intends to continue working in the UAE.
For the first time in Mahzooz's history, two winners shared the top prize of AED 10,000,000. Congratulations to Nelson & Shanavas for winning AED 5,000,000 each! Visit https://t.co/1cNLERv9M1 now and participate in the upcoming draw to be one among the lucky winners.
*T&Cs apply pic.twitter.com/LC4zECKLdZ

— Mahzooz (@MyMahzooz) August 17, 2022
The 88th weekly Mahzooz draw also saw 139 winners share the second prize of AED 1 million and 3,205 winners bag the third prize of AED 350 each.
Additionally, three winners took home AED 100,000 each in the Raffle Draw which features three guaranteed winners every week.
The total prize money won in the 88th draw was AED 12,421,750.
"Participants from India and the Philippines top the list of our players respectively," said Farid Samji, CEO of EWINGS, operator of Mahzooz.
"To date, over 50,000 participants from India have been among Mahzooz's winners, with over 3,000 of them scooping up the first and second prizes. Mahzooz celebrated over 27,000 winners from the Philippines, with more than 1,700 of them winning the two top prizes," he added.