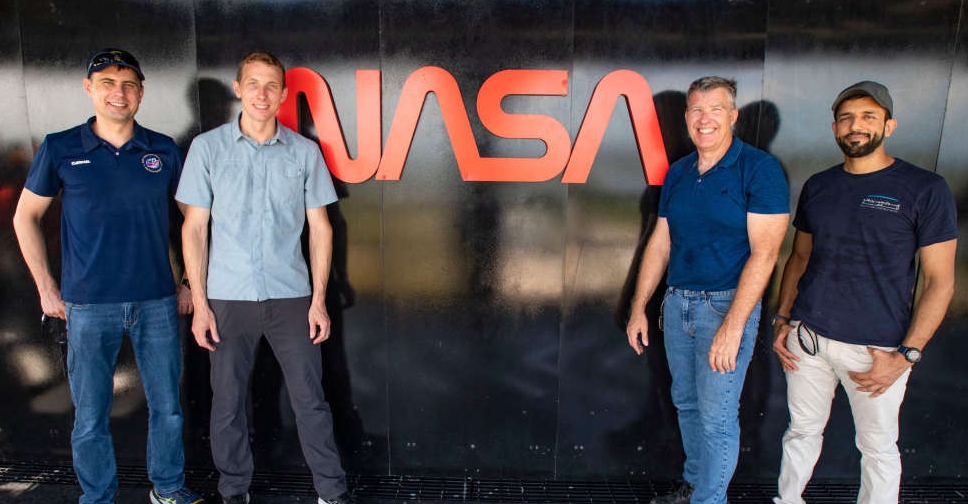 @MBRSpaceCentre/ Twitter
Emirati astronaut Sultan Al Neyadi is currently undergoing training at NASA's Kennedy Space Centre in Florida.
He is preparing to become the first Arab long-duration astronaut next spring when he joins Space X Crew-6 as a Mission Specialist.
The Mohammed Bin Rashid Space Centre has published photos of Al Neyadi with fellow Crew-6 members pilot William Hoburg, mission specialist Andrey Fedyaev and commander Stephen Bowen.
As part of the preparations for NASA's SpaceX Crew-6 upcoming mission to the ISS, the crew visited SpaceX headquarters in California and appeared in their spacesuits for the first time.
In July, Al Neyadi was selected to become the first Arab astronaut to take part in a six-month mission to the International Space Station.
Crew-6 involves AlNeyadi, Mission Specialist, William Hoburg, Pilot, Andrey Fedyaev, Mission Specialist, and Stephen Bowen, Commander.#UAEAstronautProgramme pic.twitter.com/6A6HkH2Obo

— MBR Space Centre (@MBRSpaceCentre) August 17, 2022
As part of the preparations for NASA's SpaceX Crew-6 upcoming mission to the ISS, the crew visited SpaceX headquarters in California and appeared in their spacesuits for the first time.#UAEAstronautProgramme pic.twitter.com/HcEdk627S0

— MBR Space Centre (@MBRSpaceCentre) August 17, 2022